Many different medical treatments require a patient to be under the effects of anesthesia. Anesthesia can numb a patient or render him or her unconscious for the duration of a procedure, such as surgery. It is crucial for anesthesia to be properly mixed and administered according to the specific patient and situation. Even a minor anesthesia error can have dire consequences for a patient.
If you or a loved one has suffered an injury due to an anesthesia error in Boston, Massachusetts, contact the attorneys at Barry D. Lang, M.D. & Associates to discuss a potential medical malpractice case. We offer free initial case consultations.
How a Medical Malpractice Lawyer in Boston Can Help
An experienced Boston medical malpractice lawyer will make you feel seen and heard as a victim of an anesthesia error. Rather than trying to figure out the legal process alone, you can trust the legwork of your case to an experienced attorney who has been there before. Your medical malpractice attorney in Boston will connect you to qualified medical experts, consultants, nurses and doctors to support your case and offer trial testimony, if needed. Your lawyer will do what it takes to fight for maximum financial compensation for an anesthesia error that significantly injured you or a loved one – all while you focus on healing.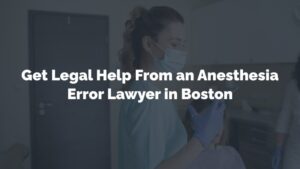 What Are Common Anesthesia Errors?
An anesthesia error in medical malpractice law refers to any mistake related to anesthetizing a patient that a reasonable and prudent health care provider would not have made under the same or similar circumstances. If an anesthesiologist isn't careful, many different things can go wrong while a patient is sedated. Common anesthesia errors include:
Incorrect anesthesia mixture
Incorrect dosage – too much or too little anesthesia
Failure to look at a patient's medical history
Fatal allergic reactions
Delayed anesthesia delivery
Injuries caused by the anesthesia needle, such as spinal nerve damage
Intubation errors and lack of oxygen
Failure to monitor a patient under anesthesia
Failure to recognize and promptly respond to complications
Dangerously prolonged sedation under anesthesia
Anesthesiologists are highly trained medical professionals. They are specialists in their field who are required to review a patient's history thoroughly, determine the best combination of drugs to use, properly administer the anesthesia, and monitor the patient during the operation or treatment to detect signs of a problem. Falling short of any of these responsibilities can lead to a medical malpractice lawsuit in Boston.
What Injuries Are Caused by Anesthesia Errors?
Making a mistake with anesthesia can have major consequences on a patient's health. Overdosing a patient can cause injury through systemic toxicity – poisoning the body in a way that can impact the respiratory system, heart, blood pressure and organ function. Administering too little anesthesia could cause anesthesia awareness, which is when a patient wakes up during surgery and can feel pain but cannot move or speak. This can be extremely psychologically traumatic.
Improper intubation or prolonged sedation could damage the patient's brain through a lack of oxygen (brain hypoxia or anoxia). Overdosing a patient with anesthesia, especially a child, can also cause permanent brain damage or death. Still other cases of anesthesia errors involve the patient's physical fitness to be put under sedation. If a doctor or anesthesiologist fails to take into account the patient's fitness and medical history, anesthesia could cause blood pressure problems, stroke, heart attack and death. Our wrongful death attorneys in Boston know how serious anesthesia errors can have fatal results.
Contact an Anesthesia Error Attorney in Boston Today
The professional negligence of an anesthesiologist can have lifelong repercussions for a patient. If you or a loved one has suffered an injury from an anesthesia error of any kind, please contact Barry D. Lang, M.D. & Associates to request a free case consultation with an anesthesia error attorney in Boston. We will listen to your story and let you know if you have grounds to file a medical malpractice lawsuit in Boston, Massachusetts. Speak to one of our knowledgeable Boston anesthesia error attorneys today by calling 1-877-LAW-DOCS or contact us online for more information.