If a medical misdiagnosis occurred due to a doctor's negligence or breach of the required standards of patient care, the patient may have grounds for a medical malpractice claim in Boston, Massachusetts. At Barry D. Lang, M.D. & Associates, we have more than two decades of experience in medical malpractice law to help you understand and protect your legal rights as an injured patient or family member. Our medical misdiagnosis lawyers in Boston offer free initial consultations regarding potential medical misdiagnosis cases. Call 1-877-LAW-DOCS today to speak to an attorney.
What Is a Medical Misdiagnosis?
Medical misdiagnosis occurs when a health care provider makes the incorrect diagnosis of an injury or illness, resulting in the patient failing to receive the treatment that he or she needs for a health problem. A misdiagnosis could also result in a patient receiving treatments that he or she does not need – such as a disfiguring surgery or medications with dangerous side effects. A medical misdiagnosis can refer to:
Failing to diagnose the correct illness
Failing to diagnose any illness at all (missed diagnosis)
Making a delayed diagnosis
Failing to recognize complications connected to an illness
Any of these mistakes can interfere with a patient's health care. Being diagnosed with the wrong medical condition or no condition at all can make it impossible for a patient to receive the treatment that the patient needs for his or her actual condition. Diagnostic errors can result in worsened patient prognosis, health declines, unsuccessful treatments and life-changing injuries. In the most severe cases, a medical misdiagnosis can contribute to a patient's death.
What Can You Do After a Medical Misdiagnosis?
You might have grounds to file a medical malpractice claim for misdiagnosis or the failure to diagnose in Boston, Massachusetts. This is a type of civil lawsuit that pursues financial compensation for the negligent or wrongful acts of a medical professional. Five basic elements make up a medical malpractice case:
A doctor-patient relationship existed between the defendant and the plaintiff at the time of the alleged misdiagnosis.
The doctor owed the patient a responsibility to meet the standards of care as required by the medical industry when making a diagnosis.
The doctor fell short of the standards of care, or breached his or her duty of care to the patient, through a negligent act or omission.
The doctor's mistake is the proximate, or main, cause of the plaintiff's reported injury or illness.
The plaintiff suffered specific and compensable damages, or losses, because of the medical misdiagnosis.
A doctor should listen to a patient's complaints or symptoms, review the patient's medical history, conduct a physical exam, order the correct tests to narrow down the diagnosis, and come to the most logical conclusion based on the information provided. If any physician falls short of these requirements, resulting in a harmful misdiagnosis, the injured patient can file a lawsuit in pursuit of compensation.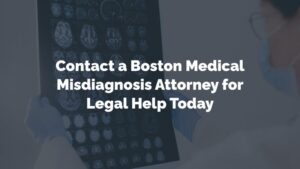 What Damages Are Available for a Medical Misdiagnosis in Boston?
A medical misdiagnosis case in Massachusetts could result in a settlement or judgment award given to the plaintiff for the losses that he or she suffered in connection to the defendant's negligence. While each case is unique, the compensable losses available typically include medical bills, lost wages, pain and suffering, disability expenses, legal fees, and out-of-pocket costs. Discuss the value of your case with one of our Boston medical malpractice lawyers.
Contact Our Boston Medical Misdiagnosis Lawyers Today
When you visit a doctor or medical center with a health complaint, you have the right to expect the physician to take reasonable steps to diagnose the condition and put you on the path to recovery. Unfortunately, physicians can make mistakes that lead to harmful medical misdiagnosis.
If you believe you have grounds to file a medical malpractice lawsuit in Boston for misdiagnosis, delayed diagnosis, or failure to diagnose, contact Barry D. Lang, M.D. & Associates today to request a free case consultation. Our team of Boston medical misdiagnosis attorneys also make home and hospital trips when necessary. Call 1-877-LAW-DOCS today.