Giving birth is difficult under any circumstances. Complications can arise naturally, such as umbilical cord prolapse or placental abruption. However, mother and baby should never be put at an even higher risk of harm due to a doctor's negligence. Unfortunately, medical malpractice occurs often in Boston and throughout Massachusetts.
If your OB-GYN or another health care provider failed to meet the required standards of care during your labor, delivery or shortly after the birth of your child, your family may be eligible for financial compensation for a related birth injury. The team of attorneys at Barry D. Lang, M.D. & Associates can provide an in-depth analysis of your case to help you understand your legal options. Contact our law firm to speak to a Boston birth injury attorney for a free consultation today.
Why Choose Our Experienced Birth Injury Lawyers in Boston
We have a strong medical background. Our founder, Barry D. Lang, MD, was a medical doctor as well as an attorney. Under his training and guidance, our current team of birth injury lawyers in Boston have a unique perspective on how to evaluate birth injury and medical malpractice claims. Our law firm also has on-staff doctors and nurses to provide their expertise during birth injury case evaluations. You won't have to wait for your case to be sent out to experts for analysis. You will get answers right away.
We put our clients first in everything that we do. We provide direct communication from attorneys so that no client gets lost in the shuffle. Our Boston birth injury lawyers will aggressively advocate for your family during a birth injury lawsuit, explaining your rights and giving you case updates every step of the way. Our specialized team of medical malpractice attorneys in Boston have over 20 years of experience, are available 24 hours a day to take your call and won't get paid unless you do.
How a Boston Birth Injury Attorney Can Help
You may be able to handle your case yourself if it is uncomplicated and only involves minor injuries. This is rare, however, in a birth injury case. A Boston birth injury attorney has all of the legal knowledge, education, experience and resources to effectively handle your case from start to finish.
Birth injury lawsuits fall under the umbrella of medical malpractice law in Massachusetts. Medical malpractice is arguably the most complicated type of civil claim. The Commonwealth has special rules and requirements for these lawsuits, including a three-person tribunal that must review your case before you can proceed with a lawsuit.
In addition, trauma during birth can inflict major to catastrophic injuries. For example, a lack of oxygen for an extended period (hypoxia) can cause traumatic brain injuries and permanent brain damage in an infant. When you are facing a complex case and your family has a lot on the line, entrust the legal process to an attorney for the best possible case results and peace of mind.
What Is Birth-Related Medical Malpractice?
When a doctor, nurse, surgeon, obstetrician, gynecologist or another health care provider makes a mistake that a reasonably prudent practitioner would not have in the same or similar circumstances, this is known as medical negligence. When the individual knows that he or she is violating protocol and potentially putting a patient at risk but does so anyway, this is medical malpractice.
In Massachusetts, a family can file a civil lawsuit against a doctor or hospital for either type of tort in connection to a preventable birth injury. A birth injury lawsuit seeks to hold the negligent practitioner responsible and reimburse the plaintiff for his or her losses, which can include medical bills, lost wages, permanent disability, special needs or education, medication and medical devices, pain and suffering, and lost quality of life.
Proving a medical malpractice case requires evidence that the defendant more likely than not violated the medical standards of care and that this is what caused the child's birth injury. An experienced Boston medical malpractice attorney can help you preserve and collect key evidence to support your birth injury claim.
Types of Birth Injuries
When a medical practitioner does something wrong or fails to do something that he or she should have done during labor and delivery, the infant can sustain serious injury. Birth injuries can come in many different shapes and forms, as a still-developing infant is extremely vulnerable to injury. Sadly, many birth injuries come with long-term symptoms or are fatal for the infant. Common examples of birth injuries include:
Bleeding in the brain
Bone fractures
Brachial plexus injury
Brain injury
Erb's palsy
Facial paralysis
Internal bleeding
Klumpke's palsy
Lacerations
Nerve damage
Shoulder dystocia
Soft-tissue injury
Spinal cord birth injury
If an infant suffers an injury to his or her brain, organs, tissues, spinal cord or any part of the body, this can have major ramifications on the infant – potentially for life. Many common types of birth injuries cause permanent damage, such as cerebral palsy caused by brain hypoxia during delivery.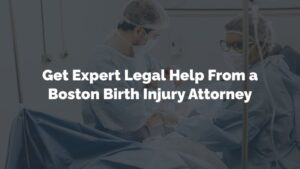 Are Birth Injuries Preventable?
The short answer is yes. While not all birth injuries can be prevented, many serious birth injuries are connected to the wrongful and careless acts of a health care provider. If every licensed medical provider involved in the birth of a child acted with appropriate and reasonable care, thousands of birth injuries would be prevented. Below are examples of medical negligence that can result in a birth injury:
Misdiagnosis or failure to diagnose a condition or infection in a pregnant mother.
Incorrect birthing technique used during a complication.
Failure to monitor fetal vital signs before and during birth.
Failure to order an emergency C-section when needed.
Misuse of forceps or vacuums.
Surgical or anesthesia errors during a C-section.
Use of unsanitary tools or defective medical devices.
Failure to diagnose and treat infant jaundice shortly after birth.
Preventable issues can arise in any setting or hospital where a medical practitioner falls short of the standard of care. This includes Massachusetts General Hospital, Brigham and Women's Hospital, Hospital East Boston, the Boston Medical Center, and Tufts. If any type of medical negligence or malpractice injured your child, you may have grounds to hold the physician and/or hospital responsible.
Consult With a Boston Birth Injury Lawyer Today | Free Consultations
At Barry D. Lang, M.D. & Associates, we are dedicated to holding negligent OB-GYNs, physicians and others accountable when their negligence inflicts serious harm on an infant. If your child has been diagnosed with any type of birth injury and you suspect malpractice had something to do with it, contact us for a free consultation in Boston, Massachusetts. Call 1-877-LAW-DOCS for more information.