Barry D. Lang, M.D. & Associates is a Boston-based law firm with decades of experience handling complex medical malpractice cases, including birth injury and cerebral palsy lawsuits. We have a team of licensed physicians and registered nurses on staff to evaluate your cerebral palsy case. We focus on the person behind the personal injury case.
Our Boston birth injury lawyers understand that your family is going through an incredibly difficult time after learning that your child has cerebral palsy. We are here to guide you through the legal process and help you pursue the justice and financial compensation that you deserve.
Why Choose Us?
We are known for personal attention, rapid and effective case reviews, and our medical background.
Our attorneys have over 20 years of experience in medical malpractice and personal injury law.
Our law firm is unique in that it has nurses and doctors on staff.
We have close relationships with top medical providers across the country for trial testimony.
We offer free initial case consultations, either over the phone or at your home, if needed.
Our Boston cerebral palsy lawyers won't get paid unless you do. We operate on a contingency fee basis.
What Is Cerebral Palsy?
Cerebral palsy (CP) is a group of neurological disorders that permanently impact muscle development, coordination, balance and body movement. "Cerebral" means brain, while "palsy" is the loss or impairment of motor function. Cerebral palsy is the most common motor disability diagnosed among infants and children. It is permanent and irreversible, with no known cure. However, it is not progressive, meaning the patient's condition does not worsen over time or with age.
Signs and Symptoms of Cerebral Palsy
The signs of cerebral palsy can appear in infancy or early childhood, depending on the severity of the case. A parent may start to notice issues in a child's physical development or missed milestones in a young child. The extent and nature of the symptoms connected to cerebral palsy will depend on the case. Babies and infants, for example, may display different symptoms than older children. Common symptoms include:
Muscle weakness
Problems with movement and posture
Trouble with coordination
Exaggerated reflexes
Stiff or floppy muscle tone
Walking on the toes
Excessive drooling
Trouble swallowing or speaking
Involuntary muscle movements (tremors)
Difficulty with fine motor skills, such as holding things
Seizures
Joint problems
Vision or hearing problems
Spastic cerebral palsy is the most common type of cerebral palsy diagnosis. It is characterized by increased muscle tone, stiff muscles and trouble walking. Depending on the severity of the case, a person with cerebral palsy may be able to walk and move almost normally or may be unable to walk at all and require lifelong care.
What Are Treatments for Cerebral Palsy?
The primary treatments for cerebral palsy are therapies, medications and – in some cases – surgery. The goal of these treatments is to manage symptoms and maximize the patient's quality of life and independence. Medications can relieve pain and manage symptoms, while physical therapy can improve flexibility and muscle stiffness. Surgery may be an option for a child with cerebral palsy to ensure healthy growth and improve mobility.
How Can a Medical Error During Birth Cause Cerebral Palsy?
Cerebral palsy can be caused by many different things. One is medical errors or negligence before, during or just after the birth of a child. Medical malpractice – the failure of a health care provider to use the correct standard of patient care – can cause cerebral palsy by injuring an infant while his or her brain is still developing. Anything that goes wrong during labor or delivery and impacts the child's brain could potentially cause cerebral palsy. This includes:
Head trauma
Skull fractures
Traumatic brain injuries
Injuries from forceps or vacuums
Concussion
Reduced oxygen flow to the brain (hypoxia)
No oxygen (anoxia)
Untreated jaundice or kernicterus
Undiagnosed brain infections, such as bacterial meningitis
Head trauma can occur during a complicated birth, such as if a doctor misuses forceps during an assisted birth after a child gets stuck in the birth canal. It can also occur shortly after birth, such as if the child gets dropped on his or her head or shaken. Lack of oxygen is one of the most common causes of brain damage during a child's birth and may be avoided if a doctor is paying attention to the infant's vitals for signs of distress. If you suspect that a medical mistake is what caused your child's cerebral palsy, you may have the right to file a lawsuit.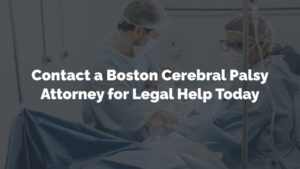 What Damages Are Available for a Cerebral Palsy Case in Boston?
Filing a cerebral palsy case in Massachusetts can hold a negligent OB-GYN or medical provider legally and financially accountable for causing your child's permanent brain injury. With assistance from an experienced Boston cerebral palsy lawyer, you and your family can fight for maximum financial compensation. This is important when you are looking at a lifetime of medical care, special education and other needs connected to your child's disability. In a Boston cerebral palsy case, your family may receive compensation for:
Past and future medical expenses
Surgeries
Medications and medical devices
Specialists
Travel costs
Disability accommodations
Special needs
Lost wages
Pain and suffering
Mental anguish
Lost quality or enjoyment of life
Legal fees
Punitive damages, in some cases
Do not accept a settlement offer from an insurance company for your claim until you've spoken to an attorney. Insurance companies have aggressive legal teams that will try to devalue your CP case and get you to settle for less than you deserve for a significant injury. A lawyer can go up against an insurance company on your behalf to demand fair and full compensation – even if this means taking your birth injury case to trial in Boston.
How Long Do You Have to File a Claim for Cerebral Palsy in Massachusetts?
The sooner you consult with an attorney about a potential cerebral palsy lawsuit, the better. Massachusetts has a statute of limitations on all medical malpractice claims of three years from the date of the negligent act or the date that you discover your child's medical condition. If you miss your deadline, you generally will not be able to bring a cause of action. This is why it is important to contact a lawyer right away.
Speak to a Boston Cerebral Palsy Lawyer Today
At Barry D. Lang, M.D. & Associates, our team of lawyers and doctors in Boston understand the mental, emotional and financial toll that comes with a cerebral palsy diagnosis. We are here for you and your family. Our Boston medical malpractice lawyers will explain your rights and make sure you have everything you need to get through this difficult time.
Our law firm is passionate about holding negligent medical providers accountable for the damage that they inflict against innocent infants. For a free cerebral palsy case consultation in Boston, Massachusetts, call us at 1-877-LAW-DOCS or contact us online anytime.