In the medical industry, where the lives of patients are literally on the line, there is no room for error. This is why the U.S. Food and Drug Administration (FDA) has strict standards for which medical devices are approved and which are not. Despite measures to ensure the safety of medical equipment, however, faulty products still find their way into hospitals throughout the country.
If you or a loved one was injured by defective medical equipment, contact the Boston medical malpractice lawyers at Barry D. Lang, M.D. & Associates to find out if you are eligible for compensation.
Why Choose Our Boston Medical Malpractice Law Firm
At Barry D. Lang, M.D. & Associates, our case reviews are fast and effective. We have nurses and doctors on staff so that you don't have to wait for outside experts for analysis.
We are highly qualified medical malpractice lawyers in Boston, with over 20 years of experience and a law firm founder who was an M.D. as well as an attorney.
We offer free initial case consultations and accept medical product liability cases in Massachusetts on a contingency fee basis. This means you'll only pay us if you win your case.
Examples of Defective Medical Equipment
Defective medical equipment is any product designed for medical purposes that contains a defect or flaw in how it is designed, manufactured or marketed. If this defect renders the medical device dangerous or unsafe for patient use, it can lead to product liability lawsuits filed against the manufacturer or distributor for patient injuries and deaths.
Throughout history, thousands of defective medical devices have been recalled in the U.S., including:
Surgical equipment
Surgical aids or robots
Implants
Hip replacements
Intrauterine devices
Power morcellators
Pacemakers
Transvaginal mesh
Hernia mesh
IVC filters
CPAP machines
Hearing aids
The FDA carefully monitors medical devices and equipment. For example, it requires manufacturers to submit forms and reports proving the safety of a new device before allowing it to hit the market. Unfortunately, FDA approval is not always failsafe. Defective and dangerous medical equipment still makes its way to thousands of patients every year – in many cases, causing significant injuries. Our Boston wrongful death attorneys know the serious dangers of defective medical devices and the possibility of patient fatalities.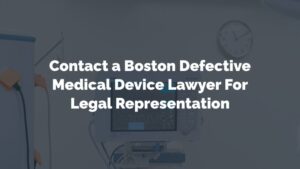 Injuries Caused by Defective Medical Equipment
Defective medical equipment can cause a wide range of patient injuries based on the nature of the product and the role that it is supposed to play in a patient's medical care. A defective device that has been implanted inside of a patient's body, for example, could break apart or migrate, leading to injuries such as perforated organs or arteries. Other types of defective medical products can cause internal injuries, organ damage, infections, internal bleeding, pain and disability.
Who Is Liable for Defective Medical Devices?
Defective medical equipment often comes that way from the manufacturer. This gives an injured patient the right to file a product liability lawsuit against the manufacturing company or distributor. This type of case typically uses the doctrine of strict liability, meaning that the injured victim does not have to prove that the manufacturer was negligent to receive financial compensation.
It is also possible that a medical device was in proper working order when it reached a hospital or health care facility, but negligence by the medical center rendered it dangerous. For example, hospital staff members might improperly configure, install, maintain or repair a piece of medical equipment, resulting in defects or breakdowns. In this scenario, the patient may have grounds for a Boston medical malpractice lawsuit against the hospital or facility.
Contact Our Defective Medical Device Lawyers in Boston Today
At Barry D. Lang, M.D. & Associates, we will carefully analyze your case for signs of negligence or malpractice in connection to your recent injury or a loved one's death. We will use our unique medical expertise and on-staff physicians to accurately ascertain whether or not you have grounds to file a lawsuit. If so, we will pair you with the ideal Boston defective medical device attorney for your specific circumstances so that you can achieve the best possible case results. Learn more during a free consultation with one of our defective medical device lawyers in Boston. Contact us online or call 1-877-LAW-DOCS today.