Plastic surgery medical malpractice can impact you for life. It can cause immense emotional suffering, feelings of worthlessness, depression and psychological trauma – not to mention the pain and expenses related to the cosmetic procedure and any necessary revision surgeries for a botched job.
Barry D. Lang, M.D. & Associates is here for you if you are a victim of plastic surgery errors in Boston, Massachusetts. Our lawyers can quickly and effectively evaluate your case to help you understand your legal rights. Call us at 1-877-LAW-DOCS for more information.
Why Clients Choose Barry D. Lang, M.D. & Associates
We've spent over 20 years helping clients with medical malpractice cases in Boston and throughout Massachusetts. Our law firm is unique in that we have doctors and nurses on staff to provide their medical expertise and insights on the cases that we evaluate. Our staff was trained by Barry D. Lang, M.D. – a medical doctor as well as a lawyer. This gives us a unique perspective during case evaluations. We are a premier Boston medical malpractice law firm.
How Can a Plastic Surgery Error Attorney in Boston Help Me?
You have already been through enough as the victim of a failed plastic surgery. You should not have to shoulder the burden of a medical malpractice claim, as well. Hiring an experienced surgical error lawyer in Boston can allow you to rebuild your life and focus on the future while your lawyer takes care of the legal legwork for you. Our Boston plastic surgery error lawyer can hire qualified medical experts to testify and support your claim, fill out and file confusing legal paperwork on your behalf, and fight for maximum financial compensation for your losses as a victim of a plastic surgery error.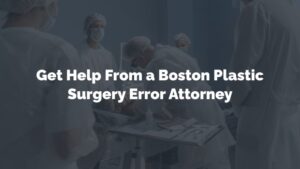 What Are Common Plastic Surgery Errors?
Plastic surgery is a specific type of procedure that involves the alteration or restoration of a body part. It can be either reconstructive or cosmetic in nature. A plastic surgery error refers to a mistake made before, during or after this type of surgery. It is a form of medical malpractice if a reasonable and prudent surgeon or health care provider would have done something differently to prevent the victim's adverse surgical outcome.
Examples of plastic surgery errors that may constitute medical malpractice are:
Failure to take into account a patient's complete medical history
Preoperative mistakes, such as a lack of informed consent
Lack of surgical training or experience
Poor communication between the surgical team
Mistakes made during the surgery
Poor postoperative care
There is no room for even a minor mistake during an operation. Although not all adverse health outcomes are preventable, those caused by professional negligence are. You may be entitled to financial compensation for your plastic surgery error if you suspect that one or more of your health care providers committed medical malpractice in connection to your negative surgical outcome.
Can I File a Medical Malpractice Claim for Botched Plastic Surgery?
Just because plastic surgery is an elective or voluntary surgery and not medically necessary does not mean you have no rights as a patient. You have the same rights as other patients to receive the appropriate standard of medical care from your doctor or surgeon. If a practitioner fell short of the standards of care and this resulted in failed plastic surgery, you have the right to file a medical malpractice claim in Boston to pursue compensation.
You may be able to file a medical malpractice claim in Boston for many adverse health outcomes after a botched plastic surgery, including scarring, disfigurement, allergic reactions, excessive bleeding, infections, tissue or nerve damage, skin discoloration, and paralysis. A successful Boston medical malpractice claim could result in financial compensation for your pain and suffering, emotional trauma, lost quality or enjoyment of life, medical expenses, and more.
Request a Free Case Evaluation at Barry D. Lang, M.D. & Associates
Find out if you have grounds for a plastic surgery error lawsuit in Boston during a fast and effective case review at Barry D. Lang, M.D. & Associates. If we believe your case has merit, we will get you help from a specialized Boston medical malpractice attorney based on your specific case. Consult with our medical malpractice attorneys in Boston today by calling 1-877-LAW-DOCS or contact us online.