When you go in for orthopedic surgery at the Boston Medical Center, Massachusetts General Hospital or another hospital in Boston, you may be accepting the risk of potential surgical complications. What you should never accept, however, is professional negligence committed by a surgeon or practitioner that leaves you with serious injuries.
If you suspect an orthopedic surgery error in connection to your recent injury, please contact Barry D. Lang, M.D. & Associates for an in-depth case review. Our experienced team of orthopedic surgery error lawyers in Boston will explain your rights and legal options and tell you the next steps to take as a victim of this type of medical malpractice.
Why Choose Our Boston Orthopedic Surgery Error Lawyers?
The attorneys at Barry D. Lang, M.D. & Associates have been practicing medical malpractice and personal injury law in Boston and throughout Massachusetts for over 20 years.
We have close relationships with top medical providers across the country who can offer their assistance with trial testimony, when needed. Our staff includes doctors and nurses.
Our plaintiff's injury law firm is a premier source of medical malpractice representation in Boston. Our law firm's founder, Barry Lang, was a medical doctor as well as an attorney.
What Is Orthopedic Surgery?
Orthopedic surgery is an invasive medical procedure where a surgeon operates on the bones, muscles, joints, ligaments, tendons or other soft tissues of the body (the musculoskeletal system) to treat a related injury or disorder. Orthopedic surgery may be necessary to treat sports injuries, degenerative diseases, spinal infections and many other medical conditions.
What Are the Most Common Orthopedic Surgery Errors?
It is an orthopedic surgeon's legal and ethical duty to meet the medical industry's strict standards of care when operating on a patient. Unfortunately, some orthopedic surgeons cause more harm than good to patients due to medical malpractice. Common examples of orthopedic surgical malpractice include:
Equipment errors. A poorly maintained defective medical devices failing during orthopedic surgery or a surgeon using a piece of equipment incorrectly. Equipment errors can also refer to leaving equipment behind in the patient's body cavity.
Communication issues. A surgeon and surgical team failing to effectively communicate with each other before, during or after an orthopedic operation, leading to issues such as mistakes during the surgery or poor postoperative care.
Medication mistakes and anesthesia errors. Improperly anesthetizing a patient for orthopedic surgery, such as with too much or too little anesthesia, or prescribing the wrong medication post-surgery.
Wrong-site surgeries. When a surgeon operates on the wrong body part, the wrong side of the patient or the wrong patient entirely – also referred to as a "never event," as it should never happen in a safe surgical setting.
If a surgeon using ordinary care and prudence reasonably would not have made the mistake that injured you, you can file a medical malpractice lawsuit against the surgeon or hospital responsible. A orthopedic surgery error attorney in Boston can help you preserve, collect and present evidence to help you prove your case.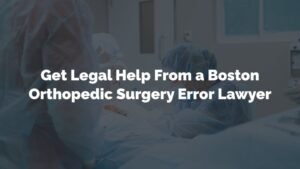 Who Is Liable in an Orthopedic Surgery Error?
The party that is liable, or financially responsible, for an orthopedic surgery error in Boston depends on the cause of the mistake. If the surgeon is at fault for inexperience or fatigue, for example, the surgeon can be held liable. Most surgeons are independent contractors who are working at the hospital rather than hospital employees. This means you can hold the surgeon individually liable. If an employee of the hospital or the hospital itself caused the error, however, the facility can be held liable. For help holding the responsible party liable for your injury after surgery, reach out to our Boston surgical error lawyers for experienced legal representation.
Request a Free Case Consultation in Boston, Massachusetts Today
Consulting with an experienced medical malpractice lawyer in Boston can lend you greater peace of mind during this difficult time. You can get the information and advice that you need about the legal side of your case during a conversation with an attorney. Clients have trusted Barry D. Lang, M.D. & Associates with their most complicated medical malpractice cases for many years. Find out how we can help you after an orthopedic surgery error by calling 1-877-LAW-DOCS to schedule a free case consultation with our Boston orthopedic surgery error attorneys. Contact us to get started and learn more about your medical malpractice claim.