If you or a loved one has been harmed by substandard care by a physician, nurse, surgeon, hospital or another health care provider in Boston, Massachusetts, we can help. Contact Barry D. Lang, M.D. & Associates for a free consultation about your legal rights. We will listen to your story and provide a rapid and effective case evaluation. Then, we will refer you to the ideal Boston medical malpractice attorney for your specific needs. Reach out to our Boston medical malpractice lawyers today for more information.
Why Choose Our Boston Medical Malpractice Attorneys?
Medical expertise. Barry D. Lang, M.D. & Associates is uniquely positioned to evaluate medical malpractice claims. Our founder, Barry, was a doctor as well as an attorney who trained our staff to have a unique medical perspective on case evaluation. We also have nurses and doctors on staff for fast and effective case reviews.
Experience. We've been representing clients in medical malpractice cases in Boston and throughout Massachusetts for over 20 years. We have close relationships with top medical providers around the country for assistance with trial testimony, when needed. We are members of the Massachusetts Academy of Trial Attorneys and Multimillion-Dollar Advocates Forum.
Customer service. We always put the client first. We provide personal attention and zealous representation to every medical malpractice case that we review. You will have direct communication with attorneys so that you never get lost in the shuffle. Unlike a larger firm, we do not pass cases off to paralegals or assistants.
Why You Need a Medical Malpractice Attorney in Boston, Massachusetts
Hiring a medical malpractice attorney in Boston can transform your experience as an injured patient. Your lawyer can save you time, money and stress. You will no longer be responsible for learning and navigating Massachusetts' complicated medical malpractice laws on your own while also dealing with serious injuries.
Your Boston medical malpractice lawyer will know exactly what to do and how the laws will apply to your unique case. You also won't have to worry about going up against a doctor, hospital, insurance company or their aggressive legal teams on your own. Your lawyer will take over insurance settlement negotiations for you, fighting for maximum financial compensation while you focus on healing.
An attorney will be able to go to trial on your behalf, if this is necessary to obtain fair compensation from an insurer. Your lawyer will have connections to medical experts and resources to strengthen your case. Positive results are especially important if medical malpractice gives you or a loved one a catastrophic injury that will have future foreseeable costs.
What Is Considered Medical Malpractice in Massachusetts?
Medical malpractice is a civil tort, or wrongdoing, that occurs when a licensed professional in the health care industry fails to use the correct or required amount of care when treating a patient. When any provider falls short of the medical industry's high standards of care, it puts patients' lives at risk.
When a patient goes to a doctor for a diagnosis or treatment, he or she should never be subjected to substandard or negligent care. Unfortunately, medical malpractice occurs regularly in hospitals in Boston and throughout the country. If you have been injured or a loved one passed away and you suspect medical malpractice, you may be eligible for financial compensation through the civil justice system.
A medical malpractice claim is a civil lawsuit that aims to hold a negligent health care provider accountable for breaching or violating the duty of care owed to a patient. It is a claim brought by an injured patient or his or her family to pursue financial compensation from a doctor, dentist, chiropractor, surgeon, nurse or another medical professional to make the victim whole again.
Common Types of Medical Malpractice
Medical malpractice can take many forms, as it can refer to almost any act or omission that does not live up to the medical industry's required level of care. Common examples of medical malpractice in Boston, Massachusetts include:
Any negligent, careless, reckless or intentional act that injures a patient could lead to a medical malpractice lawsuit in Boston. If you suspect any of these forms of medical malpractice, find out if you have a case by consulting with our attorneys.
What Are the Four Elements of Medical Negligence?
In a medical malpractice or negligence case, the burden of proof rests with the plaintiff or filing party. This means it is up to the injured victim (or his or her attorney) to establish the elements necessary for a successful case. These elements are:
The defendant (doctor or health care provider) owed the plaintiff a duty of care. In general, a doctor-patient relationship must have existed at the time of the act of negligence.
The defendant breached the duty of care. The defendant acted in a way that a reasonably prudent practitioner would not have under the same circumstances.
The plaintiff's injuries were caused by the defendant's breach of duty. The patient's injury, illness or death would not have occurred but for the defendant's medical negligence.
The plaintiff suffered compensable damages, or losses. The incident of medical malpractice must have led to specific losses, such as injury, medical costs, or pain and suffering.
With these four elements, you will have the basics of a medical malpractice claim in Massachusetts. To establish these elements, you may need a lawyer to help you collect evidence and hire medical experts to lend their testimony.
Injuries Caused by Medical Malpractice in Boston
When a doctor falls short of the standards of patient care set by the medical industry, a patient can suffer extreme harm. A surgical error made at the wrong moment, for example, could sever a spinal nerve and cause the victim to be permanently paralyzed. The negligent failure to diagnose an aggressive type of cancer could lead to the patient missing out on life-saving treatments. Examples of injuries and harm that a patient could suffer include:
Adverse drug interactions
Amputated limbs
Bedsores
Blood contamination
Brain hypoxia (lack of oxygen)
Fatal allergic reaction
Infections or sepsis
Internal injuries or bleeding
Irreversible nerve injury
Organ perforation or damage
Paralysis
Permanent brain damage
Spinal cord injuries
Traumatic brain injuries
In some cases, medical malpractice causes an injury that previously did not exist, such as the misuse of forceps during childbirth injuring a nerve in the infant's face. In other cases, medical malpractice fails to prevent a worsened patient health outcome, such as the failure to diagnose or treat a heart attack or cancer. Either way, the doctor or health care provider can be held liable, or financially responsible, for medical negligence.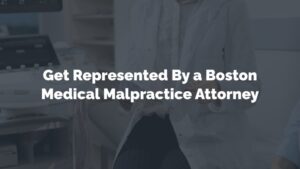 Is There a Statute of Limitations For Medical Malpractice Claims in Massachusetts?
Yes. The statute of limitations on a medical malpractice lawsuit in Massachusetts is three years, with some exceptions. This is a strict law in Massachusetts that places a time limit on your right to file a lawsuit in the state's court system. If you wait too long and attempt to file a medical malpractice case after the statute of limitations has expired, the courts will most likely deny hearing the case. This is why it is important to contact an attorney as soon as possible if you suspect medical malpractice.
The three-year timeclock typically starts counting down on the date of the alleged act of malpractice. There is an exception known as the discovery rule, however, that can toll (pause) the clock until the date that the patient discovered – or should have discovered through reasonable prudence – his or her injuries and their connection to malpractice.
In no case, however, can an injured patient file a medical malpractice case after more than seven years have passed since the medical error occurred, regardless of the date of discovery. This is known as the statute of repose, and there is only one exception – foreign objects retained in the body cavity. If a surgical error resulted in a foreign object such as a sponge or instrument being left behind, the patient can file a lawsuit with no statute of repose that overrides the discovery rule.
What Damages Are Available for Medical Malpractice Claims in Massachusetts?
The damages, or financial compensation, available for medical malpractice in Boston depend on the patient's specific losses. Successfully holding a doctor or hospital responsible for medical malpractice could result in payment for many economic and noneconomic damages, including:
Past and future medical care
Hospital stays or time spent in the ICU
Surgeries, physical therapy and rehabilitation
Prescription medications and medical devices
Temporary or permanent disability costs and accommodations
Travel expenses and transportation
Lost wages and future earning capacity
Attorney's fees and out-of-pocket costs
Physical pain and suffering
Emotional distress, psychological trauma and mental anguish
Wrongful death benefits, if applicable
Punitive damages, in some cases
In Massachusetts, medical malpractice damages are subject to a statewide cap. A damage cap is the maximum amount of compensation available in a civil lawsuit. Massachusetts caps noneconomic damages in a medical malpractice case at $500,000, with some exceptions.
What Is the Average Medical Malpractice Settlement in Boston, MA?
Medical malpractice case values are determined based on the specific losses and injuries that the patient suffered. The greater the severity of the injury, the more financial compensation a victim can receive to pay for related losses, such as high medical costs. Catastrophic injury cases, such as medical malpractice claims involving paralysis or amputations, are generally worth more than minor injuries. Catastrophic injuries can be worth millions, based on the circumstances. However, there is no such thing as an average settlement value. Every case is unique.
Can You Sue a Hospital or Doctor in Boston?
The liable party in a medical malpractice case in Boston depends on who or what caused the victim's injuries. If your physician or surgeon was negligent, you will need to find out if the doctor is an independent contractor who simply works at the hospital or if the doctor is an employee.
If the doctor is an employee, you can hold the hospital or health care center vicariously liable. Vicarious liability states that an employer is responsible for the mistakes and negligence of its employees. If the medical provider that injured you was an independent contractor, on the other hand, you will hold him or her individually liable. Most doctors maintain high levels of private insurance coverage to pay for any malpractice claims.
If the health care center itself caused your injury, such as a hospital that failed to maintain its medical equipment or premises, you can bring a claim directly against the hospital in Boston. Finally, you may have grounds to hold a third party liable in certain circumstances, such as the manufacturer of a defective piece of medical equipment. An attorney can identify the liable party or parties in your medical malpractice case for you.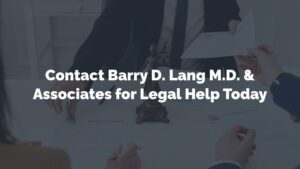 What Is the Medical Malpractice Tribunal Review in Massachusetts?
Massachusetts has special rules and requirements for medical malpractice cases. One is the tribunal review. Massachusetts General Laws Chapter 231, Section 60B, states that every action for medical malpractice must be heard by a tribunal before it can proceed to the next stage of the civil justice system. The tribunal consists of a physician licensed to practice medicine in a field that is relevant to the case, a justice of the Superior Court and a licensed attorney.
At the tribunal review, the plaintiff or plaintiff's attorney must present evidence to substantiate his or her medical malpractice claim. The tribunal will determine if the evidence presented is sufficient enough to "raise a legitimate question of liability," or whether the plaintiff's harm is merely the result of misfortune. If the tribunal agrees that there is sufficient evidence of malpractice, the case can proceed to court. The tribunal review must take place within 15 days after the defendant has filed a response to a malpractice claim.
Schedule a Free Case Consultation With a Boston Medical Malpractice Lawyer
Handling a medical malpractice claim on your own is difficult, especially if you are also dealing with painful or debilitating injuries due to the negligence of a health care practitioner. You can benefit from the advocacy and expertise of a medical malpractice lawyer. At Barry D. Lang, M.D. & Associates, we care about victims of medical malpractice and are dedicated to helping them achieve justice.
We provide thorough medical malpractice case reviews to illustrate your rights and legal options as a victim of this tort. Start with a free, no-obligation consultation with one of our local Boston medical malpractice lawyers. Most consultations can be handled over the phone, but we can visit you at your hospital or home, if needed. We have receptionists available 24 hours a day to take your call. Speak to a medical malpractice attorney in Boston today by calling 1-877-LAW-DOCS or contact us online.