A surgeon making an error during an operation is a nightmare that should never happen to any patient. Unfortunately, surgical errors are a regular occurrence in Massachusetts and throughout the country. If a surgeon, anesthesiologist or another member of the surgical team made an error that injured you or a loved one in Boston, Massachusetts, contact Barry D. Lang, M.D. & Associates to request a free consultation with a Boston surgical error lawyer. You may be entitled to financial compensation for your injuries and losses.
The Benefits of Hiring a Boston Medical Malpractice Attorney
A surgical error lawsuit falls under the category of medical malpractice law in Massachusetts. This is one of the most complicated types of personal injury cases, with a list of rules and regulations that do not apply to any other type of case. For example, you must first present evidence to a tribunal that consists of a lawyer, a relevant licensed medical provider and a justice of the Superior Court to get their approval to proceed with your surgical error claim.
A surgical error lawsuit in Boston can be much easier for you and your family after hiring an attorney. A Boston medical malpractice attorney will aggressively represent your rights and interests so that you can focus on healing. You won't have to worry about collecting evidence, hiring medical experts, handling the tribunal, filling out confusing paperwork or any other legal legwork connected to your claim. Your lawyer will efficiently and effectively handle these tasks for you.
Common Types of Surgical Errors
Surgeons and their team of assistants, nurses and staff members must follow strict standards of care. There are certain protocols they must obey to prevent errors and patient injuries, such as communication procedures and checklists. Surgeons must do their best to protect patients and provide the required level of care during all phases of the treatment process, from prepping the patient for an operation to following up to check for postoperative complications.
If a surgeon or another medical practitioner falls short of the standards of care, a dangerous surgical error and patient injury can occur. Common examples of surgical errors in Boston include:
Unnecessary or inappropriate surgery. No patient should ever receive surgery that he or she does not need. A doctor or surgeon should also confirm that a recommended surgery is appropriate for the patient based on his or her age, weight, health and medical condition. Every patient must give his or her informed consent to surgery, and only after hearing the potential benefits, drawbacks and alternatives.
Anesthesia mistakes. Checking a patient's medical history is a crucial part of an anesthesiologist's job. Failing to check a patient chart can lead to the wrong mixture or dosage of anesthesia, with complications such as overdose, under-dose or fatal allergic reactions. An anesthesiologist must also monitor a patient throughout a procedure for signs of an issue.
Never events. Some surgical errors are so extreme that they are referred to as "never events," as they should never happen in a safe health care setting. They include operating on the wrong patient, operating on the wrong body part or side of the body, performing the wrong surgery, and making accidental incisions. These mistakes can cause permanent disability and disfigurement.
Errors during surgery. Many different mistakes can be made during an operation, especially if a surgeon is unprepared or incompetent. Examples include cutting a nerve, causing hemorrhage (uncontrollable internal bleeding), perforating or damaging an organ, nicking an artery, failing to react appropriately to an emergency, and using unsanitary tools.
Retained foreign objects. A retained foreign object means a surgical instrument or tool, such as a scalpel, scissors, cotton swab or towel, being left behind in a patient's body cavity after a surgeon has completed a procedure. This is a serious health risk that can be avoided by carefully counting all of the tools used before and after an operation.
Poor postoperative care. Even if surgery was successful, the patient's care team should continue to carefully monitor for signs of postoperative complications, such as negative reactions to anesthesia, infections, sepsis, blood contamination, internal injury and pulmonary embolism. Poor postoperative care can interfere with or prevent a patient's healthy recovery.
These and other surgical errors can cause immense harm to a patient. Common injuries connected to preventable surgical errors are permanent nerve injury, paralysis, scarring and disfigurement, unnecessary amputations, and brain damage. In the most severe cases, a preventable surgical error can result in the death of a patient.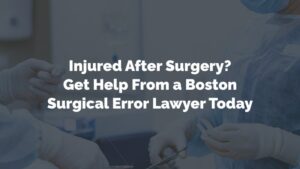 Your Rights as a Victim of a Surgical Error in Boston, MA
If you suffered a serious injury or a loved one passed away during or after a surgical operation in Boston, Massachusetts, discuss the possibility of a medical malpractice claim with an attorney at Barry D. Lang, M.D. & Associates. You and your family may be entitled to financial compensation from a negligent surgeon or another health care provider that is guilty of causing you harm. The basic elements of a surgical error lawsuit in Massachusetts are:
A duty of care. The surgeon or another defendant owed the victim a professional duty of care, such as a duty to uphold ethical standards under the Hippocratic Oath.
A breach of the duty of care. The defendant breached or violated the professional standard of care required, such as through a negligent act or omission.
Causation. The defendant's failure to meet the required standard of care is the main or proximate cause of the victim's injury, illness or death.
Damages. The victim suffered compensable losses because of the surgical error or act of malpractice, such as additional medical bills, permanent disability, pain and suffering, and lost wages.
To win a surgical error lawsuit in Massachusetts, you or your lawyer must prove these elements based on a preponderance of the evidence. This means clear and convincing evidence that proves the defendant is more likely than not to be responsible for your injury. A Boston surgery error attorney can help you preserve and collect evidence to support your surgical error case.
Contact a Surgical Error Attorney in Boston Today
If you or someone in your family has been injured by a preventable surgical error in Boston, Massachusetts, find out how Barry D. Lang, M.D. & Associates can help during a free case consultation. Our team of surgery error lawyers in Boston will carefully review your case and listen to your story to let you know if you have grounds for a medical malpractice lawsuit.
If so, we can refer you to the right medical malpractice attorney in Boston for your case. We will be your advocates and guides during this difficult and traumatic time. Call 1-877-LAW-DOCS or contact us online to request your free surgical error case evaluation today.