If you are a victim of medical malpractice at the Massachusetts General Hospital, Boston Medical Center Emergency Room, Tufts Emergency Room or another ER in Boston, you have legal rights. Barry D. Lang, M.D. & Associates can help you seek justice in the form of a medical malpractice lawsuit. This type of claim can hold a negligent medical provider accountable for your injuries and provide financial compensation for your related losses. Contact us today to get started with a free case consultation.
Why Choose Barry D. Lang, M.D. & Associates?
Our team consists of highly experienced attorneys and on-staff nurses and doctors. This saves time in external reviews and gives us an edge during medical malpractice claims.
We provide individualized attention and direct communication from attorneys on each of our medical malpractice cases. You won't get lost in the shuffle at our law firm.
You'll pay $0 upfront. We operate on a contingency fee basis, meaning we will only bill you for our services if you receive compensation for your emergency room error case.
Common Examples of Emergency Room Errors
An emergency room error can refer to anything done wrong by a licensed medical professional at an ER, hospital or urgent care center that results in patient injury, illness or death. An emergency room physician is responsible for properly admitting, treating and releasing patients. If a doctor is careless or negligent in how he or she treats a patient, it may constitute medical malpractice. Common examples of emergency room mistakes include:
Understaffing
Overworked staff members
Poor staff training
Lack of quality control
Unsanitary or unsafe premises
Poor communication
Failure to order the right tests
Failure to refer the patient to a specialist
Failure to diagnose
Failure to treat
Premature discharge
Infections
The failure to fulfill the required standards of care at an emergency room in Boston can cause many patient injuries. A patient may receive an inaccurate diagnosis or improper treatment for a serious medical condition, for example, leading to more severe harm later. A busy ER may also send a patient home prematurely without addressing his or her injury or medical condition at all.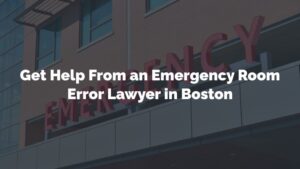 How Long Do I Have to File a Medical Malpractice Lawsuit in Massachusetts?
If you believe you have grounds to file a medical malpractice lawsuit in Boston after being poorly treated at an emergency room, collect as much information as you can about the incident. This may include a description of your care, copies of your medical records and statements from any witnesses. Then, bring this information to a consultation with a Boston medical malpractice lawyer at Barry D. Lang, M.D. & Associates. We will review the facts of your case to let you know what you should do next.
If you have a valid claim, you must file a lawsuit within Massachusetts' statute of limitations. This is a legal deadline in place for all civil lawsuits in Massachusetts. The deadline is three years from the date that the act of medical negligence took place, with limited exceptions. The discovery rule, however, may give you three years from the date that you discovered or reasonably should have discovered the malpractice.
Request a Free Consultation With an Emergency Room Error Attorney in Boston
Navigating a medical malpractice case for an emergency room error in Boston can be difficult. Medical malpractice is a complicated area of the civil justice system. The best way to protect your rights is to hire an experienced Boston emergency room error attorney to represent you. Barry D. Lang, M.D. & Associates is a premier medical malpractice law firm in Boston. We've been advocating for the rights of injured patients throughout Massachusetts for many years.
Discuss your emergency room error lawsuit in detail with one of our lawyers at no cost or obligation today. Call 1-877-LAW-DOCS or contact us online to request a case review. We have receptionists available to take phone calls 24 hours a day, 7 days a week.